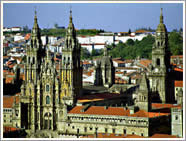 Santiago de Compostela, the 'European City of Culture' for the year 2000, is located in the northwest region of Spain, in the province of A Coruña. It is the capital of the autonomous community of Galicia. Towards the west, about 40 kilometres from the city, we find the coast. Towards the east it borders on the inner lands. The city has a population of almost 100000 inhabitants. The weather is wet oceanic, mild and rainy. The prevailing wind from the Atlantic and the surrounding mountains combine to give Santiago some of Europe's highest rainfall; the average yearly temperature is around 13º.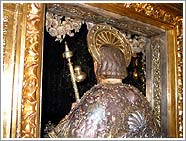 "Santiago' means 'St. James', and the city is supposedly the final resting place of Jesus's Apostle St. James the Great , the brother of John. His remains are said to be under the altar in the crypt of the Cathedral. The popular etymology of the name 'Compostela' holds that it comes from Latin campus stellae, i.e. 'field of stars', making Santiago de Compostela 'St. James in the Field of Stars'.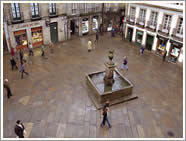 The best way to perceive the essence of the city is to go around by its streets. The monumental city, or 'old city', is a beautiful sculpture of stone carved by time and the rain. Within the old city there are many narrow winding streets full of historic buildings. In 1940 Santiago de Compostela was recognized as National Monument of extremely high artistic and cultural value. In 1984 the UNESCO declared it part of the Humankind's Cultural Heritage.
The city's Cathedral is the destination of the important medieval pilgrimage route, the Way of St
James (in Spanish the Camino de Santiago), which is still walked today. The Cathedral fronts on the main Plaza of the old and well-preserved city. Across the square is the Pazo de Raxoi (Raxoi's Palace), the town hall and seat of the Galician Xunta, and on the right from the Cathedral steps is the Hostal de Los Reyes Católicos, founded in 1492 by the Catholic Kings, Isabel and Fernando, as a pilgrim's hospice (now a parador). The Obradoiro façade of the Cathedral, the best known, is depicted on the Spanish euro coins of 1 cent, 2 cents, and 5 cents (€0.01, €0.02, and €0.05). Behind the sublime Cathedral's front we can see the top work of the Romanesque, the Pórtico de la Gloria, made by the Mestre Mateo in the 12th century. The Cathedral is surrounded by five squares: the Obradoiro, the Platerías, the Quintana, the Inmaculada and the Azabachería; all of them magically structured to harmonize the Cathedral: Rúa Nova, the Franco and the street of the Orfas.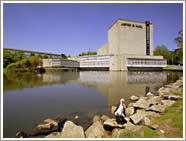 The new area of the city surrounds the old city. The new buildings are complemented with big green spaces. The contemporaneous art centre and the auditorium are good examples of the interaction and time synchrony.