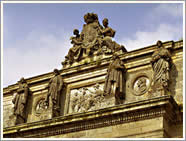 With more than five centuries of tradition, the University of Santiago de Compostela is a historic institution that projects itself to the future and beyond its frontiers, always attentive to the different demands of society, where it stands as an important academic frame of reference and where it develops its academic, research work.
The roots of the University go back to 1495, when the Santiago de Compostela solicitor López Gómez de Mazoa founds, with the help of the San Martiño Piñeiro abbot, a school for the poor known as "Gramatic Academy" in the monastry of San Paio de Antealtares. From then on, a period of uncertainties is opened due to the lack of economic resources. But in the year 1504, Diego de Muros adds brilliance to the centre as he gets a bull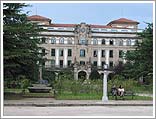 issued by the Pope Julius II that allows for the realisation of higher learning in the "Gramatic Academy". The definitive consolidation of the University comes with Alonso III de Fonseca, named archbishop of Santiago de Compostela in 1507. This is when the old Pilgrim's Hospital was bought with the aim of transforming it into a university college. The Santiago Alfeo College, today known as the Fonseca College, was also built, which became the epicentre of the university life till the second half of the XVIII century and still remains emblematic in today's university. At the end of the XVI and beginning of the XVII centuries the San Patricio College, or College of the Irish, was created and the San Xerome College was moved to its current location.
The XVIII century witnessed a profound transformation in the University of Santiago. It was during this period that Charles III granted the title of "Regia" to the University. The University seal is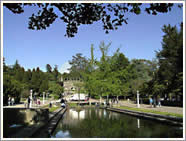 enriched with the Royal Crown over the coat of arms of Castilla, León and Galicia, as well as the most important founders' emblems. The beginning of the XX century produced a new generation of intellectuals closely tied to the university who would make up the core of a revival in the cultural life of Galicia. At the same time, there was a wide acceptance and support to the modern currents of thought. This introduced key figures from different scientific fields in our institutions. This is when the USC experiences a significant growth in the number of students as well as in carreers, which also meant a significant growth in infrastructures.
In the last decades, the universities of Coruña and Vigo already segregated, the USc student population numbers over 45.000. Nowadays, the University is organized into two Campuses, Santiago and Lugo, which include 30 centres, nearly 80 departments and more than 60 degrees, apart from numerous installations such as research institutes, halls of residence, sports and cultural facilities, libraries, etc.