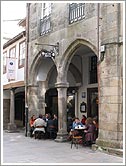 The duration of the course will be 50 hours (30 of theory and 20 of practices).
The course will be scheduled in morning and afternoon sessions.
Morning will be devoted to develop the most theoretic topics (basics and/or advanced) in three one-hour sessions each, also including possible presentations from those people attending the course.



Afternoons will be devoted to develop the practical activities of a numerical, computational and graphic character, in sessions of two hours, and with a special attention to the development and implementation of software packages.

The International Graduate School will take place in the Faculty of Mathematics of the University of Santiago de Compostela.