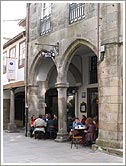 There will be invited talks of 50 minutes plus a 10 minutes discussion everyday in the morning session. These will be continued with shorter communications. Also, two mini-courses are planned in the afternoon sessions (three hours each course).

Poster sessions will be simultaneously scheduled, aimed to make place for short communications that could not be included in the timetable of talks.

The Meeting and the School on Lorentzian Geometry will take place in the Faculty of Mathematics (main lecture theatre).

Participants are encouraged to present posters or short communications by filling in the relevant data in the registration and contribution forms. A short abstract must be included.
The written version of the conferences will be subject to an external refereeing process. Accepted papers are expected to be published in a monograph.